G0JJQ's MFJ 9020 PORTABLE SET UP
---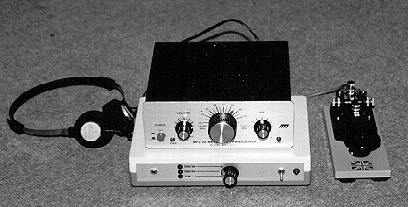 The MFJ 9020 is an exellent piece of equipment and the audio filter it's sitting on is the Howes outboard filter, I can also reccomend this as a good first kit.
Headphones are by Tandy, their cheap mono lightweight phones and the key is one of about 30 I own, I use whatever key takes my fancy at the time!
72/3 de Wayne - G0JJQ - G-QRP-5233
---
My thanks to Wayne for sending me the photograph of his MFJ rig. I am always on the look out for pictures, reviews etc to add. These are very useful to beginners and experienced amateurs. Please email me if you would like to help, thanks.

Frank, G3YCC.
---