AC6KW's Trip
---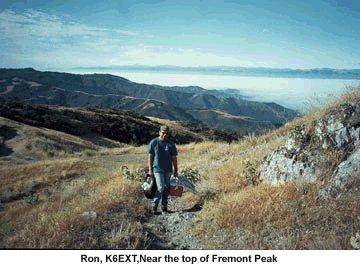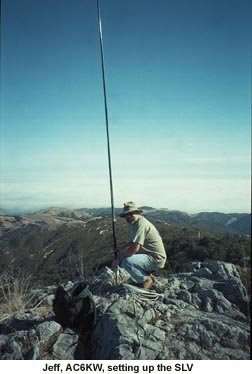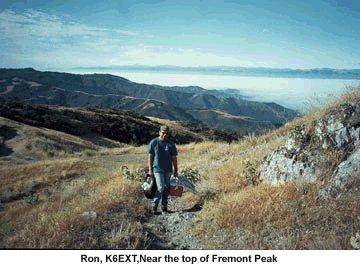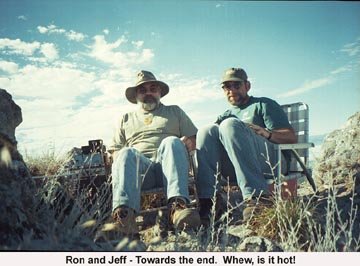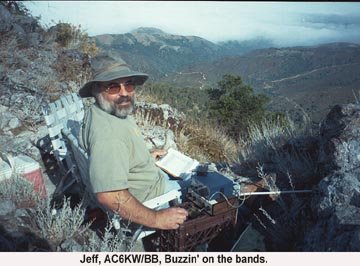 Flight of the Bumble Bee 26 July 1998

Thanks for the backpacking site. It is interesting.

I like to hike and operate also. For last years BB contest we did a short (about 2 mile) hike to operate from the top of Fremont Peak in California.

The rig was my newly upgraded Wilderness Sierra. With it's new NTE342 PA, my Sierra boasts a power output of 5 watts. It allowed me to operate on both the 20 and 40 meter bands. A small MFJ tuner and an N7VE SWR bridge will provides the matching. A few twists of the BNC connectors and we were ready to go with 45 minutes to spare. Probably the smartest thing we did was bring along a couple of small folding beach chairs and SPF30 sunscreen. Sitting there waiting for the contest to start, we felt like we were on the top of the world.

After carefully surveying the location for the best operating position we begin setting up our station. With no trees for support, we had to have a free standing antenna. We decided on the St. Louis Vertical, a 20 foot vertical antenna made from a collapsible 20 foot fishing pole. This incarnation, the newly developed St. Louis Express, uses a linear loaded radiator and six sets of seven radials. It sets up in minutes and easily tunes 10-40 meters.

I decided to try out the set up to be sure everything was working FB. Tuning around I heard KB7LOH calling CQ. A quick call brought John in Sierra Vista, AZ. We exchanged signal reports, and had a nice short QSO. I have worked John previously 2 other times, with each time being the same. This QSO was no different. I get a good signal report and after telling him I am running 5 watts, he suddenly can't hear me. He even sent me a QSL card telling me QRP doesn't work. I now know that everything seems to be working just fine.

The minutes ticked away and finally it was time to start. I picked out a frequency and sent QRL?. Finding the frequency clear, I sent my first call, CQ TEST DE AC6KW/BB. Instantly the the frequency came alive with signals buzzing like.....bees. Within a few minutes we had worked stations in WA, AL, and CA. As the contest progressed the QSB seemed to worsen with signals fading in and out in seconds. We managed to work 25 stations and 11 other bumblebees all on 20 meters. Contacts included Q's in AK, AL, AR, AZ, BC, CA, CO, MI, MN, NC, NM, OR, TN, UT, and WA. Not a bad haul for 5 watts, a fishing pole and some computer ribbon cable.

After 4 hours of sitting on rocks in the hot sun, the temperature had become quite warm. The black base of my Norcal key paddles had become so hot that I couldn't touch them. We realized that we, like the rocks, were becoming very hot. It was time to go.

All and all it was a fun day. The equipment worked flawlessly and we had remembered to bring everything we needed. The new antenna was a breeze to set up and take down. We worked stations all over the country and even some DX.

I can't wait until next year to do it all again.
---
Thanks, Jeff for the above
Frank G3YCC
---
Back to the first page