The Cobwebb HF Antenna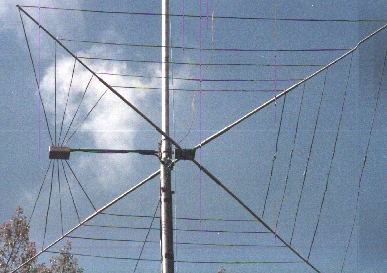 ---
The G3TPW Cobwebb antenna covers five bands, 14 - 28 mhz, including the WARC bands. It is made by SRW Commuications Ltd (Steve Webb), Astrid House, Swinton, Malton, N. Yorkshire YO17 0SY (tel: 01653 697513).

It is strongly made using fibre glass rods and comes pretuned, but is easily adjusted to one's own frequency of preferrence if required.

It consists of five nested dipole balun fed and mounted horizontally. Rotation is not required. Fed with 50 ohm coax. Can be used indoors in a loft as it only measures eight feet across and is very light to handle.

I use one here ar G3YCC mounted on a pole at the bottom of my garden, see photograph. Note, in my case the pole passes through the centre of the Cobwebb, but it works very well and I have had a QSO on SSB - rare for me! - with VK on 15m through contest QRM.

Although I have no commercial connection with Steve, a professional aerial designer, I have heard him speak on antennas at our local club and can recommend the Cobwebb, particularly for those with restricted space. I have a friend who uses one in his loft, which enables him to get onto 5 bands, which otherwise he could not do, owing to available space outside.
---
Back to the first page