THE MIZUHO HANDHELD TRANSCEIVERS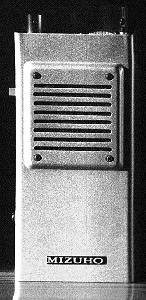 A range of HF handheld SSB/CW monoband transceivers have been marketed by Mizuho, also found under the Jim label. Various frequency models are available, perhaps the most commonly found are the 80,40 and 20 metre rigs
The 20 metre Mizuho hand held transceiver
As this is the only model I have at the moment, this is the one I will describe, but the range are similar in size, operation etc.
Specifications
Frequency - 14 mhz
Mode - USB and CW
Semiconductors - 4ic's, 9 Tr's, 6 Fet's and 33 diodes
Power supply - 8.4v DC (battery), ext power supply 9.5v DC
Power consumption - RX, 70 ma, TX 620 ma (max)
Frequency stability - 100 hz/30 mins at 25 deg C after warm up
Aerial impedance - 50 ohms
Dimensions - 66W x 39H x 142D mm
Weight - 590g inc. batteries
Transmitter
Max. power out - 2W
Spurious radiation below -40dB
Modulation - balanced modulation
Carrier suppression - 40dB min
DSB suppression - 40dB min
Receiver
Type - single superhet
Sensitivity - S/N 15dB min at 0.5uV input
IF - 11.2735
Local Oscillator - VXO
TOP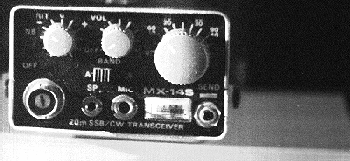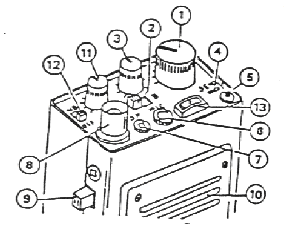 1 = TUNE, 2 = BAND SW, 3 = VOL/POWER, 4 = TX LED, 5 = PRESS BUTTON KEY (!) 6 = EXT MIC/PTT, 7 = EXT SPKR, PHONES, 8 = BNC ANTENNA, 9 = PTT, 10 = MIC/SPKR 11 = RIT, 12 = NOISE BLANKER, 13 = METER (TX PWR/S METER)
BOTTOM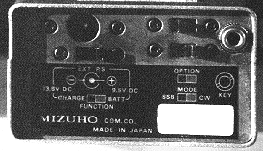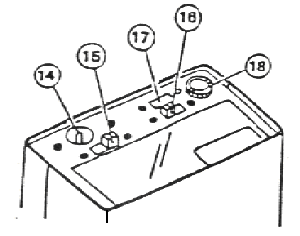 14 = EXT DC/NICAD CHARGE, 15 = CHARGE/BATT SELECT, 16 = SSB/CW SELECT, 17 = ATTENUATOR, 18 = EXT KEY
NOTE: The DC volts must not exceed 9.5v DC, the use of a DC-DC converter is recommended if an external supply is used. Batteries are easily fitted by removing a thumb scew.
It is also important that the rig 'sees' 50 ohms at the antenna socket (BNC).
Two crystals can be fitted, each having a VXO swing of 50 khz (20m version). Various frequency crystals are stocked by Waters and Stanton in the UK, as are some accessories, such as a speaker mic, whip antenna etc. A mic is built into the set. Construction of the radio is a sturdy metal case and a built in key, of sorts is incorporated, but an external key can be used to advantage.
Although 2W is not much on SSB, several interesting QSOs have been had with this mode and of course 2W CW can be very effective.
The Mizuho is ideal for holiday use, taking up little room and is a veratile piece of small HF equipment.
Currently, second hand models are found in the UK and, depending on condition, you would expect to pay somewhere between 120 and 160 pounds.
My own set was tested and after the nicads were fully charged, the CW output measured on a HP model 8481B pwer senso with 30 dB attenuation measured 2.49W.The receive section was tested using an HF sweeper, at 14.220 mHz and the lowest level, -110.00dBm was injected. This gave good AF output with no apparent noise. It was not possible to inject a lower level signal. These tests were performed independently.
---
Frank, G3YCC