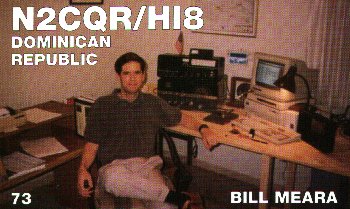 N2CQR/HI
---
This QSL is the one I used when operating from HI8 land (93-96). From that QTH I ran a combination of old boatanchor gear and HB QRP stuff.

Pictured is my trusty Hallicrafters HT-37 and Drake 2-B.

If you look closely at the QSL, you can see one of my early QRP tranmitters on the desk.

I moved this entire set-up 1000 miles north and am now operating it from the suburbs of Washington D.C.
---
My thanks to Bill for the information and his picture. Now read all about Bill's 'history'.Click here

To take a look at Bill's neat homebrew gear Click here