N7XJ Hits the Heights!
---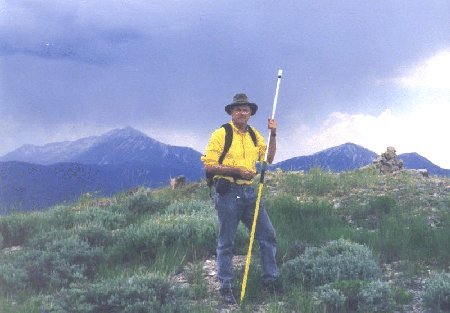 I keep my backpacking rig and antenna stuffed in a daypack at all times. My Wilderness Radio SST, Whiterook keyer, homebrew ATU and battery pack fit in two small "Tupperware" type containers along with batteries, pen and notebook. A variety of antennas are in "Ziplock" type plastic bags ready to grab. It takes only a few minutes for me to be ready to go hiking with my radios. During the calendar year 1998 I managed to operate from a backpack at least 26 separate times. Some of my hiking trips were only a few hours, while others lasted almost a week. Each were enriched by ham radio.
Most of my hiking is done in standing-rock desert or on high mountain tops. There are many spectacular hikes within a few minutes or hours of my home in central Utah, but there are very few tall trees. I almost always have to carry some kind of an antenna support. My teenaged kids are my favorite backpacking buddies. They are quite patient with me, and often help me set up my radio gear.
Last August (1998) my 15 year-old son and I set off to conquer Loafer Mountain, a nearly 12,000 foot peak about an hour from my home (see picture). In the background is Mount Nebo, the tallest peak in the Wasatch range (another one of my favorite hiking destinations). After a few hours of hiking I set up a telescoping "walking stick" on a peak and drooped a 20 meter dipole over it while David ate lunch. I had only a few minutes to operate, but enjoyed a nice one watt CW QSO with K7NBW, Bert in Roseberg, Oregon. The QSO was especially interesting because my XYL has relatives in Roseberg.
After lunch we hiked on through a deep field of snow and saw a large herd of elk summering in the high mountains. We reached the summit just as a lightning storm settled on the mountain, forcing us to beat a hasty retreat from the exposed peak. It was a wonderful day, made better by a QRP contact from the highlands.
de N7XJ, Bob in Central Utah
Thanks Bob for letting me have the photograph and story.
Frank G3YCC
---
Back to the first page