G3YCC'S HAM RADIO PAGES
CT1ETT's Homebrew Pictures
---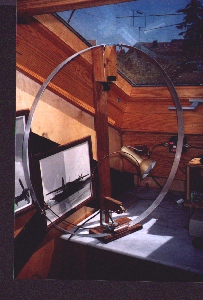 This magnetic loop is 78cm diameter, with the smaller Hertz loop for tuning. Feeding is by gamma match. The capacitor is on a small wooden box that originally held a sample of British wine! The capacitor itself, about 120pf was from a military transmitter and is rated at 1kv.
The loop is of aluminium, bent round a wine barrel (wine seems to help Rogerio in his projects!).
Works well indoors with 5w CW and 10w SSB (helped by good propogation!) and features in CT1ETT's secondary attic shack.
Another great picture.
---
Now take a look at pictures of CT1ETT's Pixie 2 and 40-9er rigs! Click here
---
Back to first page