WB3AAL and N2BSC's Hiking Trip
---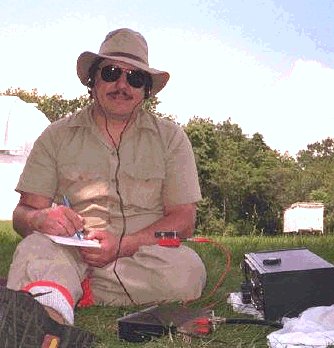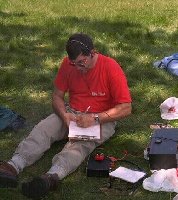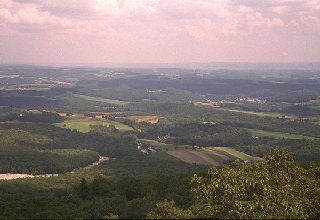 One beautiful Summer day Len, N2BSC, & Ron, WB3AAL, decided to hike on the Appalachian Trail near Hamburg, PA. We set out for an area called Pulpit Rock. The area we operated from was the Lehigh Valley Astronomical Observatory. The observatory is only a few yards off the Appalachian Trail. The area is around 1300 feet above sea level. It took us about 2 hours to hike up to the area with several rest stops, the Appalachian Trail in this area is very rocky. I was also carrying a 53 lb. back pack.
Len told me to pack on the light side, but I always like to have a backup plan so I like to bring a spare of everything.
I (Ron de WB3AAL) am dress in the tan clothes and Len, N2BSC, has the red shirt on. We made a few contacts with a Ten Tec Argonaut 515 on 40, 20 & 15 meters. We hung a Inverted V's for each of the three bands. We had a ball that day and we plan to do this more often in 1999. Here are three pictures of our QRP hiking trip.
Check out the view we had on the trail.
73 & Good DX, Ron de WB3AAL
---
Thanks, Ron for the above
Frank G3YCC
---
Back to the first page