WD0AKZ's 49er
---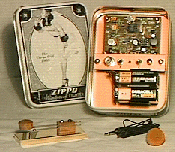 Enclosed is a shot of the 49er I just got done putting together. I wanted more room to play with so I found a display can that a Zippo lighter my wife gave me came in and it fit the bill perfectly. I decided with all this extra room to go with two 9v batteries do I can run a bit longer, and have the extra life if I decide to add a sidetone ckt in the future.
Of course, with a mini tranceiver has to come a mini CW key. It is a set of normally open contacts from a large relay mounted on a 3 inch by 1 inch piece of 1/4 inch brass stock and wooden hole plug. A KISS Key?
Thanks to George, WD0AKZ for sending the above picture and information.
Frank G3YCC
---