A SINGLE COIL Z-MATCH
---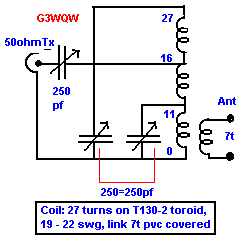 This ATU was described by G3WQW in Sprat 84 and being balanced can accomodate balanced line, open wire feeder or 300 ohm slotted.
250pF polyvaricon capacitors can be used for up to 15 watts, and a T130-2 toroid. Wire can be 1mm (19 swg) to 0.71mm (22swg), readily available from electric motor repairers etc.
A very useful circuit for the QRPer.
---
Frank, G3YCC