THE TY KEy
G0TYM
---
Hi Frank ,
I wondered if you may be interested in this little story for your web site about my operating on holiday this year. As usual I had gone on my annual June visit to Germany for the Friedrichshafen Hamfest in Germany with the Barnsley &District Amateur Radio Club trip. We were staying in Germany for 7 days on the coast of Lake Constance at the beautiful island town of Lindau. With a few free days before the Hamfest, opportunity was taken to do some sight-seeing and of course 'play radio'.
My usual equipment for trips abroad are a dual band handie for local ragchewing and a Mizuho MX14s HF QRP rig. This rig runs 2 Watts into its own whip antenna and has both SSB and CW which I use most of the time. The usual space saving key is a small Watson model GMP .
One of the regular trips from Lindau is to the top of the Pfander mountain in Austria. From Lindau this entails a short Lake ferry trip across into Austria, a small walk from the harbour, and then the Cable car up the mountain. The mountain is 1064 metres ASL and right at the top is a large communications mast which also houses the local repeaters. Also at the top is a small chalet style bar, a popular meeting place for amateurs after all radio is thirsty work! It commands superb views of Lake Constance. With such a height and the repeater nearby, on 2m and 70cm its easy to work on milliwatts all three Countries – Austria, Germany and Switzerland. Coupled with the fact that amateurs from all over Europe are in the area for the Hamfest, some very interesting QSO's can be had.
This year we headed up the Pfander on the Tuesday and as usual I took along my HF set up. First contact back into the UK was fellow GQRP Club member Dave G3ZWL in Frome (No. 6491). Conditions on HF were not good and we had severe QSB to contend with but managed the 2-way QRP contact. A better contact was had later with G2WQ Archie in Oswestry (G QRP No.9027).
A second trip was made on the Friday only this time, I had a slight set back when I discovered my Watson key had been left in the hotel room. However fellow traveller Ernie G4LUE came to the rescue with his improvised TY KEy. As I was struggling to get signals out using the 2 ends of a spare power lead taped to 2 screwdrivers, Ernie spotted my Pentel pencil laying alongside the logbook. In a flash he had the spring clip moved and had trapped the leads beneath it and the metal pencil end. Now we had a key which could be operated by holding it in one hand and keying using the index finger on the spring clip.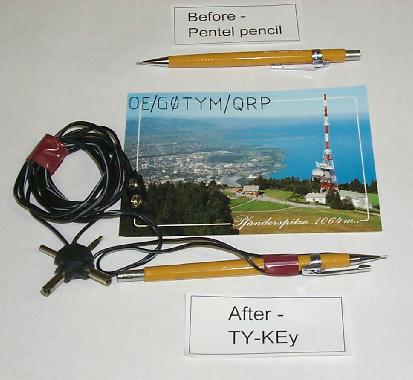 The TY KEy was born. 'Proof of the Pudding' was a first contact into Devon with Pat G0GMA/p near Seaton. I might add SSB was not forgotten and Andy M0ALA from Barnsley managed his first contact using the rig into EI land on SSB. All this taking place whilst basking in some glorious sunshine as well. The TY KEy has since travelled home and been shown around to many who wonder how it worked. But work it did and the lesson was learnt – if you forget your key don't despair CW is still possible with some improvisation. I have also enclosed some photos taken by fellow amateur Mark G1ANI of myself operating the key as well as some showing the 'gang' having fun in Austria.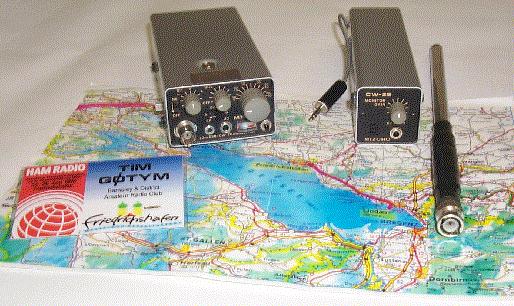 ---
---
My thanks to Tim, G0TYM for sending me the account of his trip to Austria and to Mark, G1ANI for allowing me to use his excellent photographs.